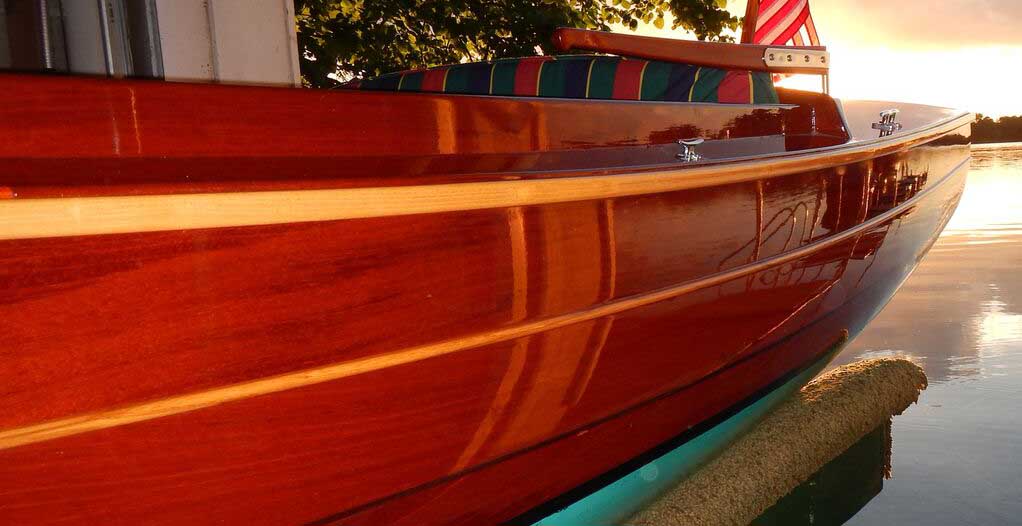 Budsin Wood Craft is located in the North Carolina coastal town of Marshallberg where we have been building some of the finest electric powered boats and launches since 1987. Our designs are inspired by vessels built in the early 1900's and reflect a bygone time when life moved at a slower pace. Each boat is built to order especially for its owner; they are currently being used in twenty-nine US states as well as in Canada, Mexico and in Europe.
We are a relatively small shop with a highly dedicated and skilled staff. Our boats are individually handcrafted, typically of Atlantic cedar and mahogany but other woods are used when requested. Being absolutely quiet and pollution free, they create an intimate atmosphere unattained by other vessels. Conversations can be conducted at normal levels and the driver's controls are convenient and unobtrusive—demanding very little attention. Our most popular boat, the 15' Lightning Bug can comfortably seat up to four adults while our larger 19' and 22' boats can accommodate up to nine. And…the electric drive requires no winterization so they are perfect for those beautiful autumn and winter days when you often have the lake to yourself.
The aim of our labors is to create beautifully simple, well-made vessels which provide our customers with the perfect way to unwind on the water.
Testimonials
Chris Cunningham, Editor or Small Boats Monthly, 15' Lightning Bug 
The motor is remarkably smooth and quiet—I was never aware of it, even though I was sitting right over it…The boat responds quickly to the helm. It'll do a 180 in a boat-length radius, and at top speed it will bank into turns…The vessel is in and of itself the destination: a place to relax, enjoy solitude or the company of friends, and take in the view, both within and beyond the boat.

Leoncio Compean, Marina manager at Mayakoba Resorts, Playa de Carmen, Mexico
The OHL-Mayakoba Group is the Luxury Icon of the Riviera Maya in Mexico, with the Fairmont, Rosewood, Banyan Tree and Andaz Mayakoba Hotels  plus Ciudad Mayakoba.

I was very satisfied as  Marina Manager there for more than 10 years, being in charge of operations of four of Budsin's 19' TROUVÉ water taxis, among other boats, and  we were very much pleased with the general performance, quietness but most of all the safe and non-polluting aspects of the Budsin boats.
George Nixon, 22' Phantom on Lake Lure NC
To say that Margaret & I have enjoyed Adagio on Lake Lure NC is a gross understatement. This craft is everything we expected and more. The design is flawless and the craftsmanship unbelievably fine in all respects. This is a work of art. We, and many, many others, just enjoy looking at her! And it gets so much better as you quietly move out of the boathouse and begin to cruise the lake. The creature comforts surround us, the boat handles flawlessly and, as she cuts through the water, you hear the sounds of water rather than the sounds of engine. A classic in all respects.
Janet Pushee, 15' Lightning Bug on Whaley Lake, Hudson Valley NY
I am a very satisfied owner…..I have owned by Sweet Genevieve for [10] seasons now. I bought my lake house in 2001 and wanted a boat that was quiet, special and Green Environmentally……well after researching my options and talking to other owners…..the reviews were fabulous and I commissioned her to be built…..She and Tom have served me well…..no regrets…..only joy!!!! My relationship with Tom Hesselink has been ongoing as I have needed other parts, covers etc…..he has remained constant, professional and attentive to all my needs…..I work too much …..but when I do get a day or two off to enjoy…..my hassle free yacht brings me total enjoyment and peace…..Just plug her in and charge her up and you're ready for hours of sneaking up on Herons, Egrets, Beavers and Eagles…..and as an extra bonus she is easy on your eyes too…I get compliments constantly as I cruise by other lake homeowners….."What a Beautiful Boat…..and Quiet too!!!" Come Visit me up at Whaley Lake in Pawling NY…..just an hour 20 minutes North of NYC……and I will take you out for a spin. (note: give us a call if you would like Janet's contact information).
David Florenzano, Lake Riley, Eden Prairie, MN
This boat (15′ Lightning Bug) is magical. It is so quiet we sometimes startle the loons as we glide by. Cruising with some wine, some cheese, great friends and our perfect boat–it doesn't get any better.
Wolf Klammerth, 15' Lightning Bug on Lake Wörthersee, Austria
My 15´ Lightning Bug has been my partner on Lake Wörthersee in the southernmost province of Austria for more than 10 years.  Whilst amid a growing community of electrically driven boats, my "Treapale" (which means, translated, "Young Lady") still is THE eye catcher.  I am very happy of getting the applause on behalf of this excellent piece of craftsmanship.
Though being in Austria and very far apart from the original cradle, Tom has always been ready for any advice or help. Thanks a lot.
Jim Davis, 15' Lightning Bug on Lake Oconee, GA
My wife, Janice, and I have enjoyed the Budsin electric boat [since 1998]. We keep it at Lake Oconee in Georgia and find it particularly enjoyable early mornings and evenings. Tom has always been available for questions, adjustments, new batteries, etc. and comes to Lake Oconee frequently for delivery of boats in Georgia. We recommend him, his product, and the enjoyment that comes with them.
Dennis Eiynck, 15' Lightning Bug, Gull Lake Minnesota
Just wanted to tell you how happy we are with the Lightning Bug and report that we won Best Launch at the Gull Lake Minnesota Bar Harbor [wooden] boat show for the last two years [2013 & 2014].