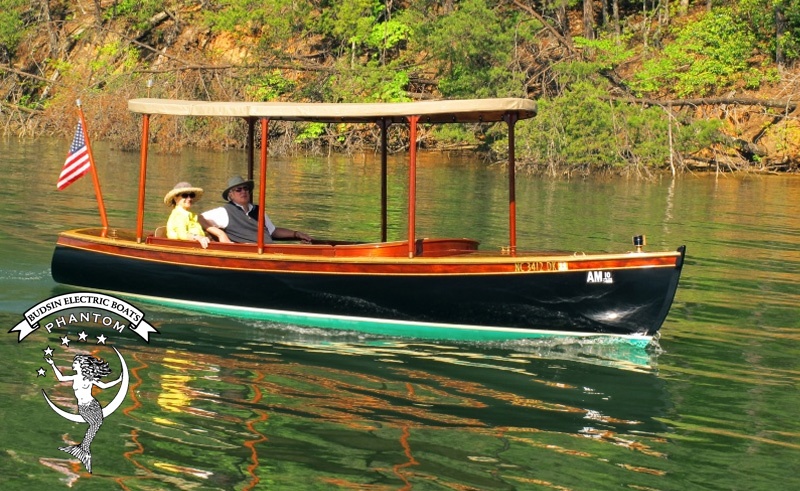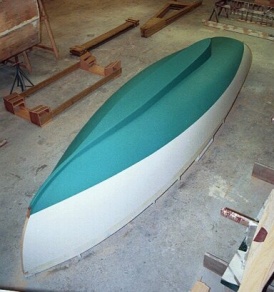 Click here for additional Phantom photos on Flickr
The 22' Phantom is the crown jewel of electric boats and elegance exudes from every minute detail, both visually and mechanically, and mechanical. The boat features a sleek and efficient hull combined with exquisitely finished mahogany decks reminiscent of the long deck launches of the early 1900's. Its unique boxed keel holds the main battery bank and motor, keeping the weight centered and down low in the boat.
This makes for a very stable and comfortable ride even through choppy conditions. The boxed keel design also affords excellent protection for the propeller and rudder allowing the boat to be safely beached. With enough power to run silently for hours at six-plus knots, the Phantom is as robust as it is beautiful.
The cockpit is designed for socializing and features a hidden slide-out table to make entertaining a breeze on any impromptu cruise. (Insert slide out table photo) The concealed icebox built neatly into the aft deck is easily accessed from the aft seat. As on all Budsin boats, the driver's controls are convenient yet unobtrusive, demanding very little attention. The Sunbrella® upholstered seats provide comfortable seating for six to eight adults with plenty of room underneath left to kick your feet. An optional removable canopy is available to provide shade on sunny days.
Feature
Specifications
Hull:
Length: 21'6", Beam: 6'2", Draft: 19"
Weight:
2500 lbs
Performance:
7.0 MPH top speed (up to. 5 hours)
5.5 MPH cruising (approx. 8 hours)

Capacity:
6-8 adults
Running Gear:
Inboard 2.4KW, 24 volt DC permanent magnet motor coupled to a stainless shaft and bronze propeller.
Batteries:
Four 275 amp-hour (main) and four 90 amp-hour (reserve) AGM batteries coupled to an on-board battery charger.
Construction:
Hull: Choice of varnished mahogany or painted fiberglass over wood.
Decks: Varnished mahogany.
Interior: Varnished mahogany with oiled teak floor and steps.
Among the Phantom's many standard features
Reserve Battery Bank
A smaller battery bank provides plenty of reserve battery life to make sure there is always enough power to get back home.
Slide-out Cockpit Table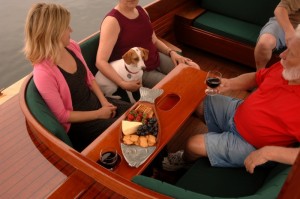 A hidden slide out table for the side seat passengers—stores neatly under the deck when not in use. The table slides out a total of 44" (the photo here shows it at ½ its full extension).
Custom Bronze Lights and Hardware
Specially fabricated for us by foundries in the US and England.
Easy Care Sunbrella® Cushions
The seat backs are all easily removed to access the storage areas behind them.
Some Optional Features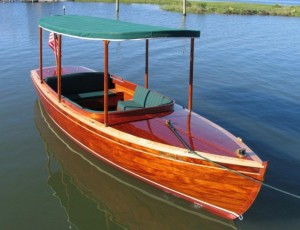 Canopy Top with Mahogany Framework
The stylish canopy top perfectly matches the compound curvature of the decks. Sliding hatches make entry and exit a breeze. The canopy breaks down and stores on top of the deck when trailering.
Mother-in-Law seat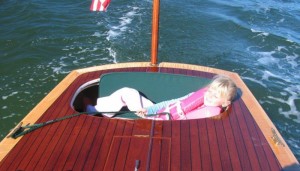 A very traditional feature for launches of this type. It may not be the best place to put your mother-in-law, but kids absolutely love their own space. The hatch lifts out and can be stored at the dock or in the forward under deck storage compartment.
Silent, comfortable, graceful. If you are looking for the finest in clean quiet electric boating, please give the Phantom a close look.