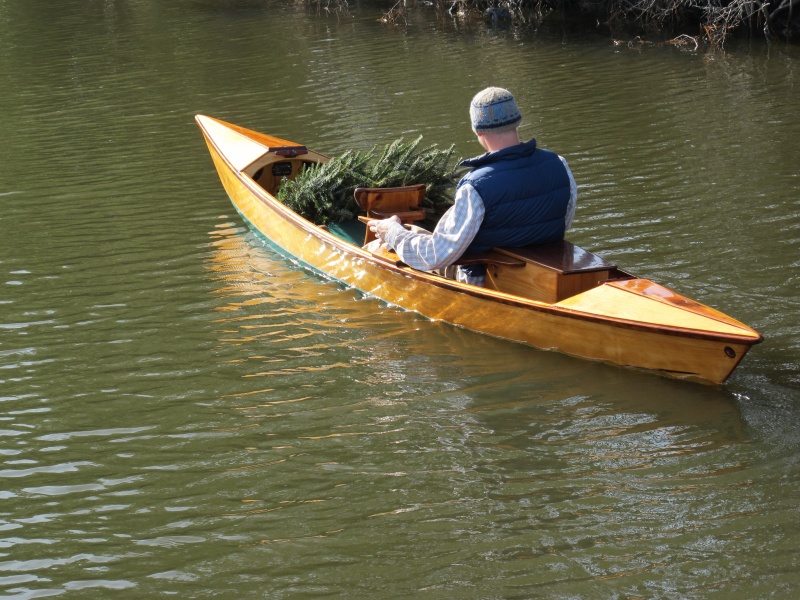 15' Black River Guide
Budsin Electric Boats is proud to introduce their new Black River Guide electric powered pirogue. We hope to have these in semi-production soon.  Please contact us for more details (pricing is $5,000 to $7,000 range).
Designed to seat one adult with an optional removable seat perfect for a child, it can silently cruise all day without need for a paddle, leaving hands free for a fishing pole, camera or binoculars. The Guide is powered by a permanently attached 24 volt trolling type motor and two deep cycle batteries, one located behind the driver's seat and one under the fore deck.
The Guide has a top speed of 5.6 mph with a running time of 7-8 hours. Batteries are recharged using an electronic battery charger (included with the boat). Handcrafted using the finest cypress lumber for the hull and a contrasting hardwood such as cherry or walnut for the decks and rails. The flat bottomed design makes it more stable than most canoes, and its wood hull absorbs vibration better than fiberglass or aluminum so it is quieter through the water. Speed control is infinitely variable in both forward and reverse allowing the boat to hover noiselessly, even in a river's current, making the Guide a perfect platform for viewing wildlife.
Feature
Specifications
Specs:
Length: 15' 1"
Beam: 33",
Draft: 8"
Weight: 95 lbs without batteries, 205 lbs with standard batteries.
Performance
5.5 mph top speed
Running Time:
6 to 8 hours before recharging is needed. A battery "fuel" gage is installed on the boat.
Max Capacity
2 persons
Max Weight Capacity:
320 lbs. persons or gear
Batteries
Two 70 amp/hour AGM batteries.
Construction:
Varnished cypress hull with fiberglass reinforcement below the waterline. Contrasting hardwood used for decks and rails (typically cherry, walnut, or white oak but others are available)
---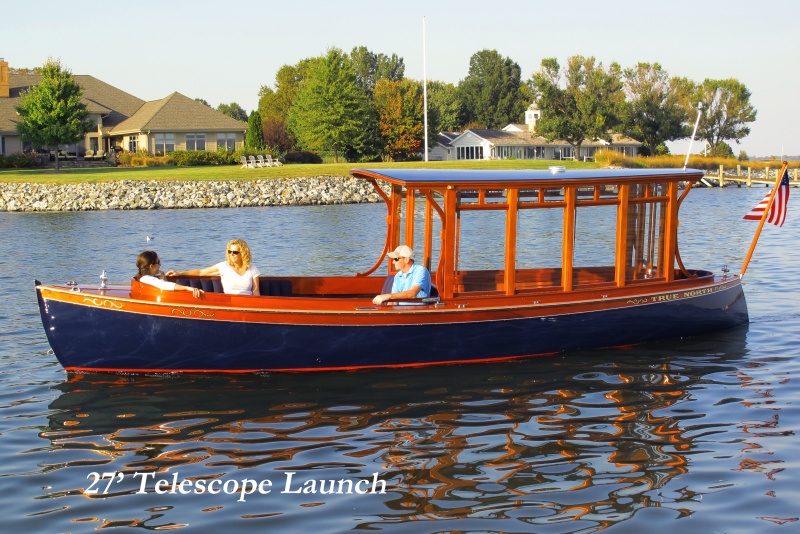 Telescope cabin launch
More photos of the Telescope are available on our Flickr page here
The Telescope was designed for a customer who wanted an enclosed cabin and a larger boat than our 22' Phantom. When I designed this boat I took inspiration for the hull from the torpedo stern launches popular in the US in the early 1900's while the cabin design was heavily influenced by the Thames River launches from that same era. Like our Phantom and Trouvé launches, the hull incorporates a 25 inch wide boxed keel, which places its large battery bank as far down in the hull as possible and allows the boat to sit upright if grounded or beached. The main body of the hull is constructed with four 1/8" layers of white cedar veneer, vacuum molded over male hull form, and then covered with layer of aircraft grade fiberglass and epoxy. The sheer planks and decks are built out of solid South American mahogany.
The Telescope utilizes a unique cabin construction. The majority of the framework is actually aluminum channel which is then completely concealed with solid varnished mahogany. The aluminum channels allow the large beveled glass side windows to drop down into the hull during warm weather, which greatly increases ventilation. There are two pilot stations on the boat, one inside the cabin and one in the open forward cockpit. The cabin sole is of dark, dark brown African wenge stripped with light holly. The large forward cockpit sole is built using solid teak grates which open to access the batteries and anchor storage.
The boat shown in these photos was custom built to fit the owner's specifications and needs. It measures 26' 8" in length and cost $225,000 (in 2013). Future Telescope boats will range in the 27' to 30' range and we can be very flexible as to cabin design and cockpit arrangement.
Tom Hesselink, Owner, Budsin Wood Craft