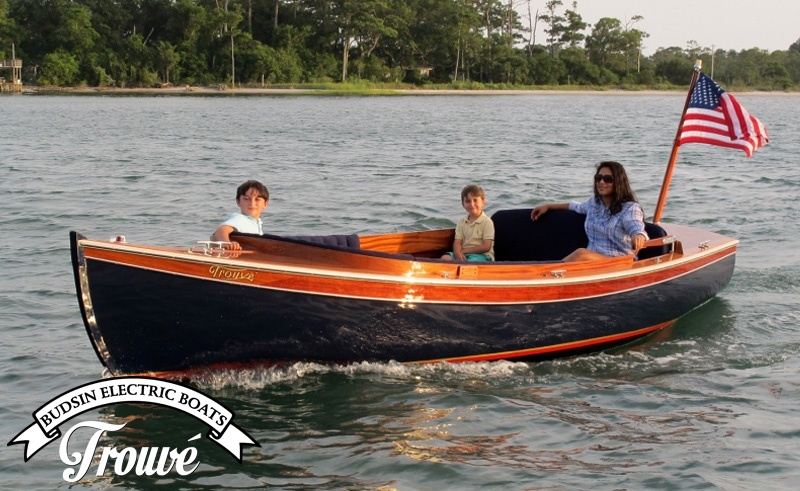 Click here for additional large size Trouvé photos on Flickr
19' Trouvé Electric Launch
In 2015 Budsin reintroduced our 18'7" Trouvé  launch.   The name fittingly honors Gustav Trouvé, the French inventor who built the first electric powered boat in 1881.  These boats were originally designed to be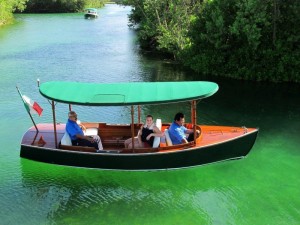 quiet and pollution-free water taxis (as the photos of the green boat with the canopy show) but for more conventional pleasure boat use we incorporated a horseshoe shaped forward seat into the cockpit and implemented the same very practical side-mount tiller steering used on our other models.   The Trouvé comfortably seats up to eight adults on Subrella® marine fabric cushions.  The optional canopy features retractable boarding hatches to make entry and exit a breeze.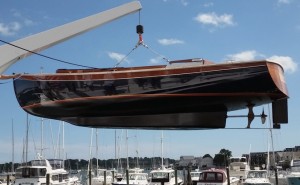 The Trouvé  features a hand laid fiberglass hull with molded-in sheer planks, which is a departure from our other wooden hulled models.  The large battery bank is housed in a boxed keel under the floor, making for a very stable and smooth ride even in choppy water conditions, and allows the boat to be safely beached, adding to the boat's versatility.
 The cockpit was designed foremost for comfort–the high seat backs provide more than adequate support while the open design of the forward seat allows passengers plenty of legroom. The interior is crafted in exquisitely finished mahogany on all Trouvé  boats.
The decks are offered in three different configurations: (1) easy-to-maintain and economical fiberglass, (2) classically styled imitation teak (very easy care) and, (3) expertly hand crafted varnished mahogany (the varnished mahogany option is shown in all these photos).  There are surprisingly large storage areas under the fore and aft decks..  We offer a couple different types of custom sewn Sunbrella covers to keep the boat looking good for years.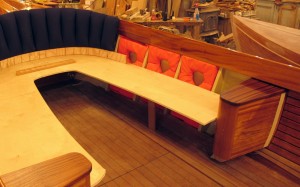 Feature
Specification
Specs:
Seats up to 8 adults


Length 18'7", Beam 6'5", Draft 19"


Weight 2,400 pounds


6-knot top speed (up to 7 hours)


5-knot cruising speed (up to 10 hours)


Full depth boxed keel


On-board fully automatic battery charger


Two automatic bilge pumps


Interior courtesy lights
Running Gear:
In-board 2.4 Kw 24 V permanent magnet DC motor coupled to a stainless steel shaft and bronze three-blade propeller
Batteries:
Six 275 A/hour maintenance free AGM batteries
Construction:
Hand-laid fiberglass hull with molded-in sheer plank


Varnished mahogany, imitation teak or painted fiberglass decks


Varnished mahogany seat bulkhead/trim and ceiling strips


Oiled sapele flooring, boarding steps


Easy-care Sunbrella® cushions